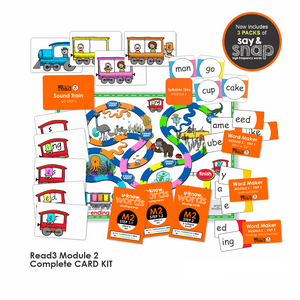 The Read3 Complete Module 2 Card Kit is only available for purchase by licensed Read3 professionals within their private clinic or learning support division.
Why not order a couple of complete kits and establish a Read3 resource library?
The Complete Kit includes 3 x Step Card Kits - one for each steps in Module 2. Each Card Kit is separately boxed and labelled making clinic use and parent loaning easier.
Please note: each Step pack includes essential game cards and multi-sensory concept cards ONLY. Game instructions are not included. You, the licensed professional, will guide clients on how to use these cards during your literacy sessions.

The Parent Card Kit contents are separated by Step. Each includes:  
Sound Train Concept Cards

Word Maker Cards

U-Know Words Cards (3 different packs)

Syllable Tiles

Say & Snap (3 packs)

Word Endings Game Board (paper only)
Clinic Pack items valued at over $180 when purchased separately.
Wanting full digital access to Module 2?
For digital access to all Module 2 content, including lesson videos, scripts, game instructions and digital game cards, please select one of the products below and choose 'Digital + Card Kit' option at checkout.
Read3 Module 2 for Professionals (Single User)
Read3 Module 2 for Professionals (Multi User)