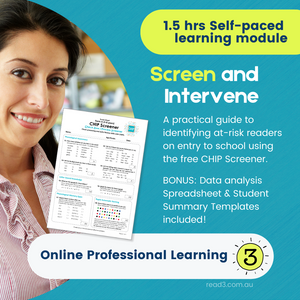 A practical guide to identifying at-risk readers on entry to school using the CHIP Screener.
Don't wait to find out which children fail to learn to read. Latest research confirms we can identify at-risk readers as early as 5 years of age, before they learn to read.  By examining four processing skills that are vital to reading development, you will know which children will need more help from the beginning. 

If you're looking to make a change and be part of the solution to the "wait-to-fail" problem, then this early screening workshop is for you!


In this 90 minute session, you will learn how to use Read3's free CHIP Screener to help you make informed intervention decisions for your students.
You will unpack:
research behind early screening 
four

 

processing skills

 

and the role they play in

 

screening for reading difficulties
how to administer CHIPS

 

for younger children
how to interpret the results

how to present findings to

 

educators

 

and parents
plus, an overview of how to target intervention based on the 'reading profile' of the child
You will walk away with a clear understanding of the role of screening, how to screen at all year levels, 
BONUS GOODIES! 
Included with this presentation is our CHIPS spreadsheet and Student Summary templates so you can record, analyse and present student data like a pro :)
How to access your online learning
This is a pre-recorded session compiled from 'live' professional development sessions held during 2022.  
Purchase any time and view at your convenience.
Upon purchase you will gain instant access to your online learning.
Activate your Read3 Account (check inbox for email titled 'Activate Your Read3 Account'
Log in at Read3
Click 'My Learning' from the main menu
Choose

 

Screen & Intervene from the dropdown menu
You will have unlimited access to the recordings for 60 days from purchase date. 
Presentation notes, CHIPS data tools and detailed instructions are included.
 _______________________________________

Workshop Presenters:
Screen and Intervene
will be presented by
Read3
Co-Founders
Robyn Monaghan, BSpPath, Certified Practising Speech Pathologist and Kate Andrew, BA Communications and Design.