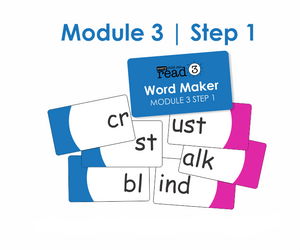 Word MakerCards | Module 3 | Step 1 are used for Word Maker and Chunk Check games in the Read3 program.
Cards feature consonant blends - both onset sounds and rime endings - and are recommended for building fluency in children with processing difficulties.
Each Step 1 pack includes:
24 dark blue onset cards containing consonant blends
52 dark pink rime cards containing consonant blends
1 blank dark blue onset card
1 blank dark pink rime card
Cards measure 58mm x 35mm and are printed on gloss card stock. All cards are proudly Australian-made.
Note: a downloadable version of these cards can be accessed via login as part Module 3 Step 1 of the Read3 program.