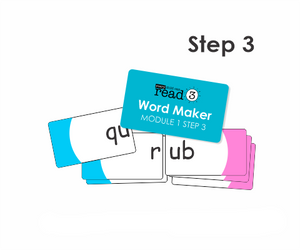 Word MakerCards | Step 3are used for Word Maker and Chunk Check games in the Read3 program. Featuring just the letters and sound chunks used in Step 3, these cards are recommended for building fluency in children with processing difficulties.
Each Step 3 pack includes: 20 blue onset cards (k, l, r, u, j, w, x, y, z, qu) 11 pink rime cards (ag, ed, ob etc) 1 blank blue onset card 1 blank pink rime card Cards measure 58mm x 35mm and are printed on gloss card stock. All cards are proudly Australian-made.
Note: a downloadable version of these cards can be accessed via login as part of Read3 Literacy Intervention Step 3.