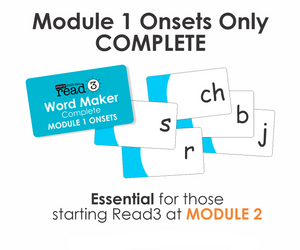 Word Maker Onset Cards are essential for any child starting Read3 at Step 2. 
Reading and spelling words containing long vowels is the focus in Module 2, and regular games of Word Maker will help build awareness of the spelling patterns. Connect these onset cards with rime cards in Module 2 to create words. 
The complete pack includes 62 blue onset cards from Steps 1-5 of Module 1. Cards measure 58mm x 35mm and are printed on gloss card stock. All cards are proudly Australian-made.
Note: a downloadable, printable version of Module 1 onset cards is NOT included in Step 2 of the Read3 program.