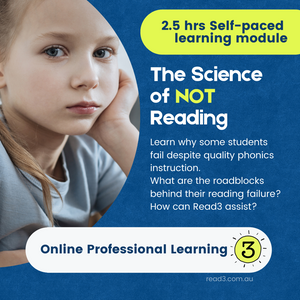 With online learning you can learn more about literacy intervention and the Read3 program at a time that suits you. Also a perfect option for bringing new team members up to speed during the year!


Understanding why some kids fail, despite quality phonics instruction.
Systematic Synthetic Phonics is an essential element of quality literacy instruction, so why is it that some students still fail to make progress? 

If you're looking to dive deeper into why some children are unable to connect letters to sounds, sound out simple words or build reading fluency then this session is for you!

This session is recommended for learning support teams, classroom teachers and literacy tutors. It is also suitable for speech pathologists with an interest in literacy intervention. 
During this module you will unpack:
What is the science of reading 
How we 'map' words (orthographic mapping)
What are the roadblocks struggling readers face

What more can we do with a systematic synthetic phonics approach

How Read3 supports at-risk readers
How to 'stem the flow' of reading failure
Classroom accommodations for older students 
You will walk away with a clearer understanding of the complexities that struggling readers face, where their learning is breaking down and how you can support them.
How to access your online learning
This is a pre-recorded session compiled from 'live' professional development sessions held during 2022.  
Purchase any time and view at your convenience.
Upon purchase you will gain instant access to your online learning.
Activate your Read3 Account (check inbox for email titled 'Activate Your Read3 Account'
Log in at Read3
Click 'My Learning' from the main menu
Choose Science of NOT Reading from the dropdown menu
You will have unlimited access to the recordings for 60 days from purchase date.  
Presentation slides and references can be downloaded from your course page.
Note: to access content you will need to activate your Read3 Account. A separate email will be sent - be sure to check your promotions/spam folder if you cannot see it.
This module includes all content covered in our 'live' Science of Not Reading professional learning sessions. 
Running time: approximately 2.5 hours. 

Format: The recording is divided into sections enabling you to easily review key components.  
 ___________________________________________ 
Workshop Presenters:
The Science of NOT Reading 
is presented by
Read3
Co-Founders
Robyn Monaghan, BSpPath, Certified Practising Speech Pathologist and Kate Andrew, BA Communications.