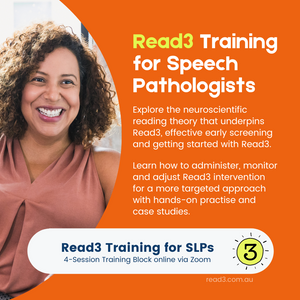 Licenced User Training for Speech Pathologists 
Training Block: 12 January, 19 January, 2 February, 9 February
Sessions: 1:00-2:30pm AEDT (12:00-1:30pm AEST)
This SLP training block is conducted 'live' via Zoom over four weeks (Friday) for approximately 1.5 hours per week.
This training block for Speech Pathologists and specialist literacy tutors. Training is required for all Read3 licenced professionals.
If you have Allied Health Assistants running Read3 sessions, please email support@read3.com.au to discuss your training needs. 
Individualised literacy intervention is recommended for children with processing weaknesses and complex profiles, but learning the 'finer points' of how to adapt intervention to the specific needs of your clients will take time. By offering spaced training sessions you will have the opportunity to explore Read3, trial sessions with clients, and receive and implement feedback - all within the one training block.
Over the four sessions you will explore: 

Scope and sequence
Read3 learning system
Website orientation
How to run a Read3 session
Parent capacity building
Read3 and telehealth
Monitoring and adjusting intervention
Complex clients
Seeking school support
Review and problem solving
Session replays will be made available for a period following the training. Module 1 Step 1 will also cease for those who are not registered Read3 users.